So many people are flocking up and down on the island to visit the perennially popular go-to destinations in Bali. Let's say Canggu, Seminyak, Kuta and all the southern areas. But why not skip those mass tourism destinations and head to some off-the-beaten-path gems outside the city? Going to non-touristy sites not only benefits your personal growth, but also your wallet and your environmental impact.
In the eastern coast of Bali, you can discover the combination of black sand beaches, spill-down mountains, gigantic volcanoes, ancient temples and lush rice terraces. Here, you can also absorb the traditional lifestyle in the typical Balinese villages.  READ MORE ABOUT EAST BALI!!!
The west side of the island is dedicated to those who are in search for peace and pure as there is not much of tourism attraction here. Some parts of West Bali is still relatively unknown and mysterious. The locals do their daily activities tranquil, slow and relaxed. They are into this "What doesn't come today will come tomorrow" mindset. READ MORE ABOUT WEST BALI!!!
When you are at North Bali, you can expect a warm, welcoming, relaxed and carefree atmosphere. People here live day by day with no planning. There is rarely rush or stress. What dominates here is space and tranquillity. Wherever you go there are beaches and mountains to be admired almost everywhere. Nature clearly prevails here. READ MORE ABOUT NORTH BALI!!!
---
Out of Town Accommodations
Soori Bali
Striking the perfect balance between outstanding facilities and untouched natural beauty, Soori Bali is the quintessential place to escape and immerse yourself in local culture. Located on the less travelled shores of south-west Bali within the Tabanan Regency, one of Bali's most fertile and picturesque regions where the landscape ranges from volcanic mountains and verdant rice terraces to beautiful black-sand beaches overlooking the Indian Ocean; the luxurious Resort combines contemporary Asian architecture, local immersion, and a unique powerful nature.
Guests can indulge the calmness and serenity of one of Soori's 45 outstanding private villas, ranging from 1 to 10 bedrooms, each with its own private pool. A complete hideaway and outdoor magic one could possibly wish, Soori Bali promises a range of experiences beyond the ordinary including fine dining, wellness, and cultural life enhancing moments deeply rooted in Balinese culture and inspired by the soothing influences of the natural surroundings.
Ideal for anyone in quest of authenticity, expect breathtaking views, privacy, bespoke service and cherished unscripted moments; Soori Bali is a hidden gem on the Island of Gods and a destination on its own – this is Bali as it should be."
---
Blue Karma Dijiwa Ubud
Blue Karma's Ethic, Ethnic touch can be felt from the very moment you enter their Nestling Escape. Inspired by Alexa Aguila Genoyer's travels, her artistic touch is discovered as soon as you step into the lobby and translates through her colourful paintings in contrast with the natural local materials, such as teak and lava stone. She has succeeded in creating a very special ambience that makes modernity serve tradition nestled into the abundant greenery.
Hidden in the hillside at a place where heaven and earth blissfully meet, their joglo-style suites have been carefully crafted fro Javanese wood, making your stay ethnic and luxurious. Each suite is individual, yet all as charming as the next. Having views of the tropical jungle, abundant rice paddies and a stunning infinity pool; makes your retreat in Ubud worth spending.
dijiwasanctuaries.com/at/bluekarmaubud
---
Mathis Retreat Ubud
At the heart of the Balinese ricefields, Mathis Retreat offers its guests an original and different escape. An ideal address to associate with a stay at Villa Mathis, less than an hour from Ubud, towards the sea and at Mathis Lodge in Amed, East Bali. On the principle of Secret Retreats accommodations in Asia, Mathis Retreat offers a concept of intimate and unique hotel in Ubud, making the property an original and authentic vision of Balinese luxury.
All 21 rooms and bungalows, encased in lush tropical vegetation, are decorated and arranged for your comfort, mixing modernity and Balinese tradition for the pleasure of the eyes. Large bedrooms and living rooms have been created for your relaxation, all equipped with air conditioning, with an area of between 40 and 50 m2, king or queen size bed (twins on request), sofa with terrace for the bedrooms or garden private for bungalows, full bathroom with bath and shower.
dijiwasanctuaries.com/at/mathisretreatubud
---
Wapa di Ume Ubud
Just five minutes away from Ubud Centre lies Wapa di Ume, a resort so nestled in an agricultural heartland of thriving rice fields, it places you at one with nature. 15 new units built on the river bank have been added to the original setup of 18 villas, featuring sunken baths and private pools with views of tranquil courtyard gardens. Even with the increased capacity, a stay at Wapa di Ume continues to feel extremely private, coupled with top-class facilities Textures and colors greet you at every turn.
Think soft homespun fabrics, dressed slates and natural bamboo. Leave all your stresses at the door of the villa with pool, which comes with an open air terrace overlooking the rice fields or private gardens inviting terraces. To provide total serenity, slew of activities are entitles of yoga classes, Joglo House to utilise the gym facilities. To delve deep into the local culture, sign up for palm and coconut leaf creation classes to learn how to weave traditional offerings to the Gods. End the day by enjoy a meal of local delights than cook it yourself, Mr. Wayan, Coffee & Eatery is the place to go.
---
Samanvaya Sidemen
Samanvaya resort is located in the middle of ricefields with lush greenery surroundings. An oasis of tranquillity, showing Bali's authentic east side. The swimming pools, yoga barn, spa, and restaurant are all accessible by little paths. Although the Samanvaya Luxury Resort stands for luxury and claims to be "adult-only", the real concept in our eyes is much more based on sustainability and regionality. Here, plastic is rigorously avoided, there is filtered water in glass bottles, the locals can exchange their plastic waste for rice and the hotel's own garden grows fruit and vegetables that are processed by the restaurant. A whole battery of practices that many hotels in Bali and Indonesia could learn from.
At Samanvaya Luxury Resort, you have the feeling that you are completely on your own. Due to the arrangement of the cabins, you don't hear much from the other guests and can relax at two pools or on your own terrace. You can choose between 12 very different types of accommodation – all of which offer you your own little villa or house.
---
Mathis Lodge Amed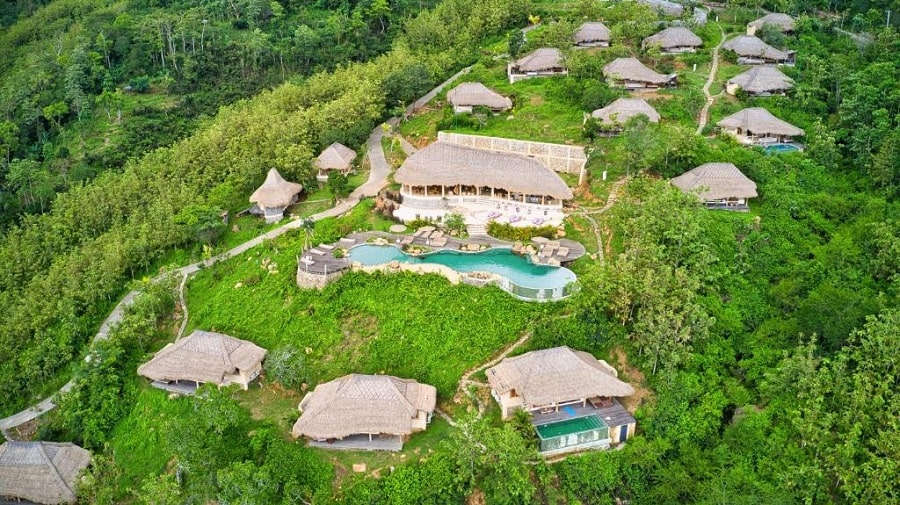 Mathis Lodge has decided to take the height by overlooking this whole area at more than 400 m above sea level. Made up of 20 individual lodges spread over the 2 hectares of the property, some lodges are equipped with an outdoor jacuzzi or an infinity pool, to keep you refreshed at all times. The larger ones can accommodate a family of 4 in complete comfort. The refined decoration style takes us into an ethnic atmosphere of East Indonesia between Papua, Sumba or Sumbawa.
The materials used are mostly natural between stone, wood, straw and tropical plants. The comfort and interior fittings contrast with the exterior and its surroundings – the bedding is worthy of a large luxury hotel, the bathroom products are 100% natural. The terraces are furnished with a large sofa and a king size day bed in the shade to take full advantage of the exceptional view from the property. A broadband fiber optic wifi is available in the rooms and in the common areas.
dijiwasanctuaries.com/at/mathislodgeamed
---
Munduk Moding Plantation
Munduk Moding Plantation is where Bali's skies blend with the water of the infinity pool, the Bali Sea and the towering volcanoes in Java. Where nature creates art, this hideaway nestled in a working coffee plantation surrounded by jungle. Here the real Bali is alive.
Designed by award winning Bali architects, Popo Danes and Era Anastasia, the villas and suites at Munduk Moding Plantation marry key features of Balinese architecture with a modernist tradition, adapted to the environment of this hill station. Munduk Moding Plantation is a hideaway for those who are looking for something different. Surrounded by tropical forest, it is an Eco-Luxury Nature Resort and Spa located in North Bali offering stunning views, luxury comfort, and intimacy.
READ MORE ABOUT MUNDUK MODING!!!
---
InterContinental Bali Sanur Resort
Newly launched in 2022, just a 25-minute drive from Ngurah Rai International Airport, the InterContinental® Bali Sanur Resort offers a luxury oasis of calm, for the ultimate beachfront escape. The 120-key all-suite and villa resort is ensconced on a charming stretch of white-sand beach, with its sparkling blue water and lush tropical gardens. The resort is also strategically located near the island's natural and cultural wonders, making every venture outside as extraordinary as within. Just a stone's throw away is the local designers' shopping avenue and some of Bali's best conceptual restaurants & bars. A short 45-minute boat trip will see guests transported to the exotic islands of Nusa Penida and Lembongan, and at roughly the same time for a car ride, North, is Ubud, a serene center, famous for its traditional crafts and dance.